We service nearly every brand of appliance!
Flat Rate Service Call
$125trip fee
* Evening Appointments $145
* Second Appliance trip fee is $45
Free with Repair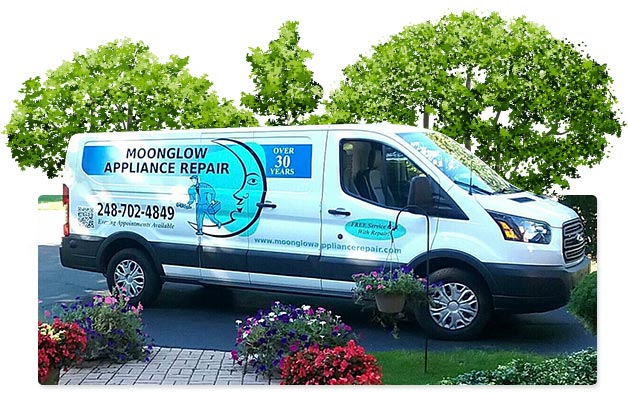 About Moonglow Appliance Repair
We guarantee fast, friendly service, competitive prices, and that the job will be done right the first time, or we will make it right.
All estimates are provided before we start the work, and all work is guaranteed. Our professional, uniformed technicians arrive on the job with fully stocked, marked trucks. We repair refrigerators, washers, dryers, dishwashers, ranges, and more.
Appliance Repair
Services
Came over at 5pm the day before Thanksgiving. Quickly took care of the issue and were on their way.

Moonglow Appliance Repair is awesome. They're quick to get things fixed, honest, and professional.

contacted the technician, gave me a price and set me up with an appt. John was prompt, let me know when he was on the way, and got my gas range and gas dryer hooked up, Now I am a happy camper, he was neat, quick and got it working. Thank you! I would recommend them to anyone who needed appliance repair!

The repairman was neat, nice, and diagnosed the problem on on my washer very quick. A part needed to be ordered, didn't take more then 4 days to come in. My dryer started acting up to in the process of my washer being broke. The repairman fixed the belt on the dryer that had fallen off and didn't even charge me for it! Very nice, and helpful company.

Came the same day which was great Lance did a excellent job the price was right thank you Lance and thank you Moonglow first time customers Joe & Sandy living the good life in waterford on Elizabeth lake